When Freedom Bathrooms needed a colorful brochure designed, they called Wicked Design.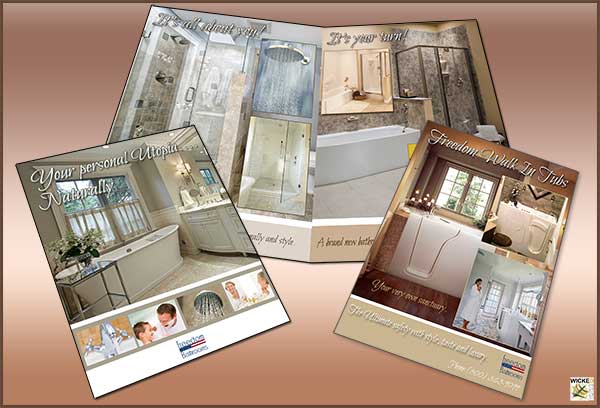 After designing a successful website for the firm, we rolled up our sleeves again for this Loudoun remodeling company to create a memorable brochure that would be given to prospective clients in the mid Atlantic region. They wanted a bi-fold design that also contained an insert. The overall design measured 8 1/2 inches by 11 inches, when printed and cut.
Freedom Bathrooms offers various level of remodeling services, and the new flyer was to reflect those. Each page was designed to demonstrate the type of bathrooms that a client might expect.
Freedom Bathrooms offers tubs and showers meant to make life easier for mostly seniors. The installations they offer allow for each access through low entrances and swinging doors. Therefore, the brochure design needed to be geared to an older audience. This usually means creating a graphic design that is:
Easy to read with large text
Large, memorable photos
Simple and clear instructions to contact the company
Reflect their needs and desires in a simple but effective manner
Seen here on the right, the cover meets these requirements in as much as being simple and to the point. Within a few seconds, you understand what the printed materials is all about. This is an important aspect of design because often you only have a few moments to grab the attention of the holder.