Graphic design can be challenging on many levels, Mastering the appropriate amount of content based upon the need can be the biggest. In this case, we just designed a CD cover for a local Loudoun band, called "The Moment". Their CD release party occurred this weekend at Shenanigan's in Leesburg, Virginia. Luckily, this band chose to work with a printing firm that offered a template for the graphic design aspect. All we had to do was fill in the various aspect of the template and send it off for printing.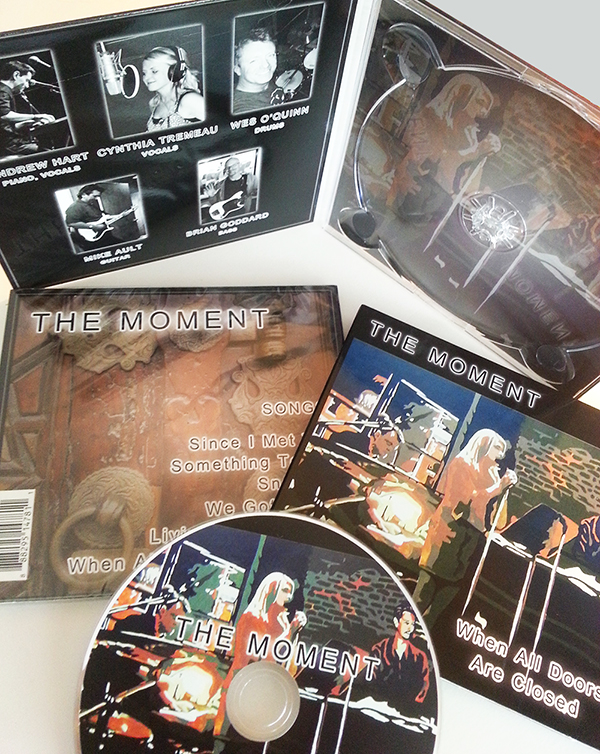 As designers know, much happens between the template stage, and printing. For example, there are photos to be used, personal artist photos, their roles in the band, font choice, effects, edge bleeds, palette type, word choice and more. To complicate matters, the band members, and their families often become involved in the process of deciding which element should stay, or be eliminated. We've written about designing by committee in the past, but this is different. Designing an album cover (can we still use the word "album?") is more personal, and more meaningful to those involved.
We always insist on working with a single point of contact, but this rarely happens in practice. Often, the folks involved have a person stake in the project. In doing so, everyone has a different idea of what the final product should look like. Needless to say, this complicates what might be a simple project otherwise. Yes, the job of a designer also involves diplomacy, patience, counseling and nerves of steel. While designing the CD cover for The Moment did not elevate to these levels, it certainly could have. They were actually great to work with.
The design of this album centered upon the title of the CD; "When All Doors Are Closed." It had to contain an interesting photo of a door somewhere on the CD, which is featured on the back. The front of the CD displays a painting of the band, rendering with artistic flair. The fonts feature an outside glow, indicating the essence of a moment. Th inside of the CD cover features the band members and their roles. The template also allowed for the area behind the CD to be printed as well. The cover photo was used here, but it was coupled with a blurring technique that provides hints, rather than over-powering this hidden spot. We didn't want this area to overtake the other, more important, aspect of the album.
In closing, this CD design appropriately reflects a local Loudoun band and the genre of their music; A bit of mystery, clean graphics and a great looking product. The band members are Andrew Hart, Cynthia Tremeau, Wes O'Quinn, Mike Ault and Brian Goddard. They play all over Loudoun County and in Leesburg.