The plumbing business is competitive in Loudoun County. Everyone needs a plumber on occasion, which is why there are so many service providers. As with any business where there are competitive factors, one must stand out to gain attention and rise to the top.
O'Quinn's Plumbing, located in Leesburg, Virginia, wanted to create a web design that:
1. Was simple to navigate
2. Effectively leverage their successful brand
3. Render quickly on desktops and mobile phones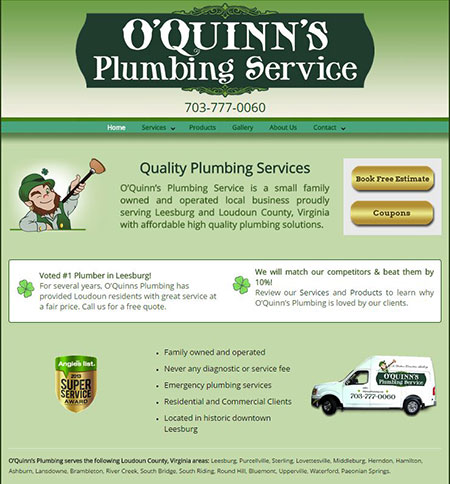 Wicked Design was able to execute on these three goals while providing the company with terrific search ranking results. When designing new website projects, we begin with the client goals. All design and development springs from these core set of requirements. If we can't accomplish what the client needs, we have not succeeded.
This WordPress based website was constructed in roughly three weeks time. They had much of the written content and sitemap structure already. Taking the goals into account, we began work on the design. Branding was placed in the header and the mascot placed directly below. This quickly establishes what the website represents, within seconds. Next, the web visitor is greeted wth a welcome message that establishes legacy and dedication. The last above-the-fold area contains two large buttons leading to coupon and free estimate pages.
Because in general, web visitors have little patience, their attention must be captured in seconds. The O'Quinn's Plumbing website places the critical information at the top using large, well defined areas. There is no clutter, flashing elements or annoying assets. Within second web visitors know that this is a Leesburg Plumber with much to offer.
When your business, or organization, seeks to build a new website, please consider the
following:
– What are your top three goals?
– What type of message do you want to send?
– Who are your customers?
When the answers to these questions are known, effective design can begin. All of the next steps should relate back to supporting the core goals. In the end, you want as much traffic as possible while leaving a positive impression upon your potential customers.