Baer's Mattress Den is a family owned sleep business that has been around for more than thirty years. They advertise heavily in papers like Leesburg Today where their brand can be seen both on the front and back pages of nearly every issue. Being a family owned business in a modern world where national franchises have tremendous marketing power, Baer's needs to stand out and present their value proposition.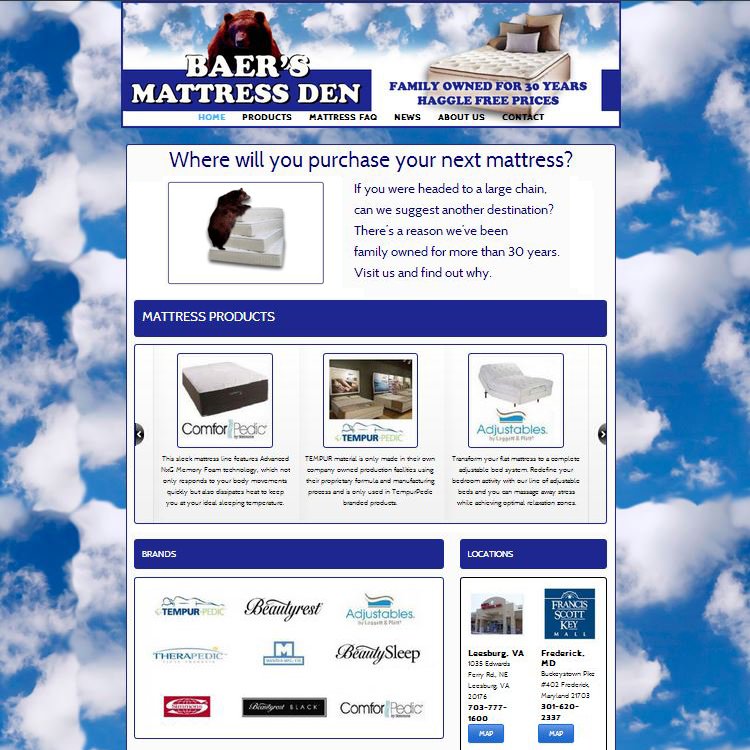 They must continually inform the community that they carry the same brands as other stores, but also provide honest advice. They will actually send customers to competing businesses with specific questions for sales staff. They do this because with customer education comes trust and a lasting relationship. Nearly all of the customers return and purchase a mattress from Baer once they learn the truth about materials, prices and honest advice.
Baer's had specific goals in mind regarding the design of their new website. They needed to:
– Effectively reach Leesburg and Frederick, Maryland customers
– Present all of the bedding products and brands offered in a clear manner
– Provide the types of services offered using clean navigation
– Inform customers of the types of materials used in mattresses
– Communicate when it is the right time to purchase new bedding, frames and more
With these goals in mind, Wicked Design began creating unique and simple website designs for this Leesburg, Virginia based company. We used clouds as a back drop to help emphasize sleep and peacefulness. We defined specific areas of the website to contain topics while leveraging enough white space to make it easy to read for all ages. Each content area is clearly titled with links provided that encourage further exploration into the website. Using only a blue and white palette, the amount of potential web clutter is minimized and content focus is channeled. Because Leesburg and Frederick folks are of all age brackets, the presented products and services that Baer's offers needed to be clean and crisp.
In closing, this company has built a reputation upon honesty and real advise. Their customers come back year after year, and refer their friends and family. While the sales staff in the larger box stores come and go, the Baer family has not. They run their business by instilling confidence and trust. You can't be in business for thirty years without having these types of solid principles. Good service is becoming a thing of the past. Not so much with these legacy, family owned business.
Whenever a legacy business contacts Wicked Design about new website design services, we are thrilled. Our reputation provides our clients with a level of comfort in knowing that their brand will be represented with care and integrity. Whether your business is in Leesburg or not, we'd like to hear from you. Our client list and web development projects speak for themselves. Feel free to explore our website and learn more about the creative services we offer to business and organizations just like yours. Learn more about our website design services at: https://wickedesign.com/2021/website-design/.