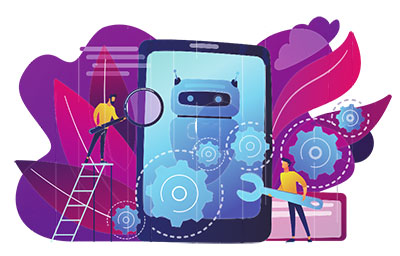 When embarking on the development and design of a new website for your business or organization,  many factors should be considered. Simply focusing on initial cost often drives folks to use free website building platforms, which can be fine, if your goals are met.
However, in the long-run, your costs may actually be higher and your time spent on the project could be significant.  Also, if you care about search ranking, you may not obtain the desired effect when creating your own website. These are some of the things that a professional Website Developer should bring to the table when supporting you.
These factors should be weighed carefully when deciding whether to hire a web developer, or go it alone. Below are a set of questions that should be considered when deciding whether to buy or build.
Questions to ask yourself:
What goals are you trying to accomplish?
How much time and money are you willing to spend?
Will it be simply informational, and/or be used to attract new visitors, or something else?
How important is your public brand?
How important in SEO (search ranking again competitors)?
Below, this article explores all of the factors involved in this important decision. This article will cover Cost, Time, Branding, Competitive Edge, Scalability, Security, Performance, Technology, and Qualities To Look For In A Professional Web Developer.
Cost and Fees
Most, if not all, businesses and organizations focus on earnings and operating costs. This articles makes an argument as to why a higher price tag for web and WordPress development is usually worth the price. Due diligence on a development team is always recommended.
What is your hourly billing rate? Should your time, therefore, be spent developing a website? How many hours will it take to complete web design research? Usually much longer that you may be anticipating, especially if just learning.
Time
If you count on designing and developing your own website, you should plan on spending dozens of hours of simply learning. Then, you will need to add all of the written text, and photographic, content in such a manner that is appealing to your visitors. This is also known as using good design principles.
Most professional Website Designers carry an education in graphic design, plus years of experience putting that training into practice. This is why you can discern a professionally made website, from one that was not. These factors matter and reflect on your brand and services.
Branding
A professional Web Developer will be able to design a site that stands apart, adheres to good design principles, and make your brand look as good as possible. Conversely, a beginner website can stand out as just that, and often appearing as thought it was quickly assembled. While doing it yourself can save money initially, a less than professional job can turn away potential customers, leaving a bad lasting-impression of your company, and brand. What is the costs involved at this point?
You want your web visitors to leave your site feeling like they obtained the info they came for, plus having an affinity for your brand and services. Investing in your well crafted website will return value for many years in terms
Competitive Edge
It's highly likely that your competition hired a professional website developer, and it's going to show. This will be reflected in the over design, performance, and search ranking. In theory, you want to at least match the effort of your competition. Searching for keywords and phrases related to your business will reveal how your competition is ranking. You should strive to appear in search as high as possible, meaning page one or two of results.
Your customers are going to decide who to call and hire  based on the appearance and performance of your site. If your website does not at least match your competition, then you may be hurting your efforts, and revenue. Your website is also going to reflect on the quality of your products or services, directly. If your website is sloppy or outdated, your potential customers will view your offerings in a similar manner.
Scalability
The word scalability means the ability to grow over time. Your website will need to expand as your services grow, your team expands, your history and successes increase in size. You may be adding eCommerce to your site, or interactive dynamic online forms (see related article). Perhaps you expand your product offerings and need a whole range of page expansions.
Reputable web developers will leverage a content management system (CMS) that can edited and updated by the client. They should provide you with complete credentials to access any of your services, and even provide training for content updates. Then, you or staff should be able to expand the site with the only cost being time. May of the free web platforms will begin to charge for added pages, features, technologies and more. These incremental (and repeating) costs add up over time. In aggregate, they will end up costing more that hiring a designer to begin with.
Performance
The faster your website renders, the better the experience will be for your visitors. If it loads slowly, your potential customer may move their search effort to other search listings. Most professional Web Developers know how to make a site operate as quickly as it can. This usually involves the use of a fast web host server, deferred code loading, sized and compressed images, caching, using the latest technology, and more. All of these performance issues can also increase your search ranking.
Many of the free or cheap web building sites operate slowly because you pay little up-front costs, they do not invest in speed (unless you pay for it). Sites built on these platforms generally do not obtain good search ranking. Are you curious about the performance of your existing website? You can use free online tool such as GTMetrix.com. Testing sites like this one provide not only grade rankings for your site, but also provide details behind dozens of factors that relate to the performance of your website. You should not have a grade less than a B in any category.
You will also enjoy longer visit times to your site from potential clients, if the site operates smoothly. Folks have little patience these days, and will move on quickly if challenged.
Technology
The backend technologies required to maintain a website today are ever changing. Keeping up with these changes keeps your site running fast, and remain protected from a daily onslaught of online threats and hacks. If you host your own website, you will be responsible for maintaining your own updates. If your developer hosts for you, they should keep your site up to date on your behalf. This also holds true for a managed hosting solutions.
Professional website and WordPress developers will also advise you to obtain hosting services that are near your business location in order to obtain the faster website possible. If you offer business services in the Mid-Atlantic region, or Loudoun County, you do not want a website hosted on the west coast of the county.
Your website should always be mobile ready. This means that someone accessing your site should see content displayed properly regardless of the device being used. On average, between 40% and 60% percent of visitors coming to your website today will be using a phone or tablet.
Qualities To Look For In A Professional Web Developer
When looking to hire a top notch web designer you should look at their client list (our client list), and the services that were provided to them. This is usually a good indicator of community trust, business acumen, and professionalism. You should also look at their reviews (our reviews) and read what the community has to say.
Honesty also play an important role in the designer / client relationship, as with any business. Your website developer should provide you with all logins, answer any questions, provide options both now, and for your future. Their fees should be provided beforehand, and be reasonable. Conversely, you should be aware at the average development fees within your area.
Here at Wicked Design, we've been in business since the spring of 2012. In that time we helped more than 500 customers meet their online and branding goals with flying colors. Perhaps that why we have only 5-star ratings nearing 50 at the end of 2022. Contact us should you want to learn more about hiring a developer to improve your brand online, and perhaps bring more clients into your business.