Selling your products and services online, in Loudoun County or anywhere, is easier than ever.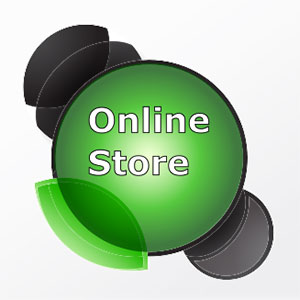 This blog post will inform you of how our ecommerce solutions are being used, the solutions that power them, and what makes a good online shopping experience.
These days you don't need an IT manager to update new products, you can do it yourself. Once your ecommerce solution has been integrated into your website, adding and updating your online items for sale is a simple matter. New solutions developed over the last number of years allows the average business owner to keep an online store running smoothly.
Wicked Design has designed and developed many websites for a wide variety of businesses, and organizations. These clients offer online products and services for sale including theater tickets, bed and breakfast room reservations, gift cards, dinner events, books, original art, classes, custom products and consignment items. These web development projects each had their own specific requirements, but they operate in a similar manner and are updated by the respective website owners. While a decent amount of work is still required, the process is easier than ever. In addition, customers can have the same online shopping experience while purchasing with their phones or tablets.
Use Cases and Examples
Below are specific examples of online stores that we've built for our clients. These examples demonstrate a wide variety of online shops that are used to sell goods and services. The products and prices shown were accurate when this post was written, and they may have changed since.
Another Turn Tack
Located in Purcellville, Virginia, Another Turn Tack sells horse tack and equipment. Some items are new, others are on consignment. You can buy their saddles using their website: https://anotherturntack.com
Hidden View Bed and Breakfast
One of Loudoun's newest places to stay, Hidden View Bed and Breakfast is located on Route 9 in Hillsboro. Their website allows customers to book room reservations. https://hiddenviewbnb.com
Chateaux de la Pooch
This website allows customer to purchase custom made dog beds, and dog related antiquities. http://www.chateauxdelapooch.com
John Rolff Gardiner
John is an award winning author living in Loudoun County. His website offers novels and short stories for purchase. http://johnrolfegardiner.com
Online Ecommerce Solutions and Features
Nearly all of the websites we develop use the WordPress.org content management system (CMS). This open source solution is installed on your web hosting service, and then designed with your specific requirements. Do not confuse this CMS solution with the free blog hosting service at WordPress.com. They are the same company, but each have their own purpose.
Our ecommerce solution of choice is WooCommerce. This solution is also open source, and powers nearly 30% of all online shopping websites today. With millions of websites relying on this platform, you can be sure it's a solid, trusted choice. WooCommerce not only handles your online products and services, but will also manage state and local tax collection, shipping requirements, sales messaging, payment methods, and more. You can even sell subscription based services where there are no physical products.
If WooCommerce can't solve your particular online sales issue, there is likely an add-on technology available that will. There are hundreds of these plug-in solutions developed to meet specific and nuance needs.
Your online products for sale can feature various styles, sizes, and colors. For example, you may want to offer shirts for sale. Each shirt can be browsed using various sizes and colors. The buying customer can choose these options and see the product photos update with their selections. Prices can change based upon the choices made. For example, an extra large shirt can have a higher price than an extra small.
Many of our clients use PayPal for clearing online transactions. This well used online payment solution is about as simple as it gets. Other than transaction fees, PayPal can be free use if you land on their portal for payment collection. Your customers do not need a PayPal account, they can checkout using a credit card. You can embed PayPal into your website directly, but this begins monthly fees paid to them. WooCommerce also supports credit card merchant accounts, Square, Stripe, Amazon Payments, and more.
This online transaction platform handles many types of shipping requirements, which can get tricky. You can sell to the entire planet, or limit your online sales based on geography: Specific Zip codes, states, and/or countries. It can also charge shipping rates based upon the customers location, or allow customers to pick up items at your location.
When creating an online shopping website, you need to use what's called an SSL certificate. Including SSL into your site indicates to your customers that your online store is secure. This is often seen in the upper left corner of your browser when visiting websites, and will feature a green lock symbol and the word "Secure". This certificate ensures that personal data entered by customers will be encrypted as its sent to the router or connection point. With wide use of public wi-fi today, you can be sure that information can't be "sniffed" as its sent. Having an SSL certificate can also boost your online search rankings, as the search engines prefer its presence.
Creating a Good Shopping Experience
To create a good online shopping experience for your customers, consistency is key. Your product photos should be of similar size, use similar backgrounds, and use of descriptive language. Messaging should be simple and clear, and the fewest number of buying steps as possible. The last thing you want for your online store is customers abandoning the shopping cart due to complexity, inconsistency, or site speed (fast hosting can be important).
When creating your store, plan ahead. Before adding products online, make a complete list of what you plan to sell, and their potential variations. Photograph your products using the same background, or environment. Ensure that your uploaded product photos are cut and cropped to specific sizes, which keep website performance as high as possible, and the user experience the best that it can be. For example, do not upload photos that are right out of your camera, they are often much larger than what your site requires. Your online product photos should be clear and bright without background distractions. You can also blur items in the background which helps to maintain product focus.
If you only sell to specific geographic areas, include that messaging into your store. You don't want the customer to load up the shopping cart only to realize they receive your products (a bad experience). Don't leave other critical buying rules to the checkout process, inform your customers early.
When done properly, each product should have a unique URL. This way, you can promote individual items for sale on social media, newsletters or in email. Because WooCommerce supports online coupon codes (than can automatically expire), you can promote specials using unique product links. This can help to sell more products in your online shop.
Should your business or organization need an online Ecommerce website, Wicked Design will be happy to help. Please contact us for a free consultation.
Related Links: