In December of 2014, the Nichols hardware store in Purcellville, Virginia celebrated its 100th year in business. As part of this celebration, a parade float was designed and build by volunteers in the community. We did our part by designing the graphics used on the float. The image below was created from a photo of the wooden shelves in the Nichols store. It was used as a backdrop for the float. Nichols Hardware is likely the oldest running of its kind in the state of Virginia.
Work began by laying our the design, which measured nine feet across. Because the photo provided did not have enough resolution, we had to fill in areas to give the appearance of a much larger image. This was accomplished by copying portions of the image. The area along the top was created by hand in Photoshop. Wood textures were used to create the appearance of shelves along the top. Products were placed on those shelves, along with the Nichols name.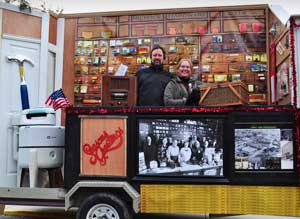 The finished artwork was then printed on vinyl in a banner format. The float itself was designed to give the appearance of the Nichols store. It featured the wooden counter top, appliances from the fifties, and details from the buildings themselves. The parade was followed by a 100th celebration cake that was enjoyed by the staff, their families and the public at large.
This project serves as a fine example of the community coming together to celebrate small town victories. The photo below reveals the look of the final float design. Read more about this celebration as printed in the Leesburg Today newspaper: News story link.